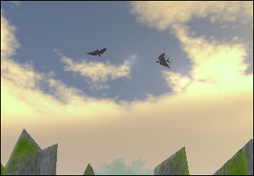 Characteristic's

Behaviour

Peaceful

Height

Small

Moovement Speed

Average

Color

Brown/Grey

TameAble

(No)

BreedAble

(No)

Birds
fly peacefully, high above the jungle. 
They can be easily disposed of with any ranged weapon, if used correctly.
This is a easy alternative to collect feathers for arrows or defense towers. They also drop a decent amount of meat making them a safe and easily huntable prey.
In order to kill them, it is advised that you acquire a bow and some arrows. Then you aim just a little bit over and in front of them, then fire.   When a bird dies, it will fall straight down.
Yield Upon Death: 15x feathers, 2x small meat
Community content is available under
CC-BY-SA
unless otherwise noted.