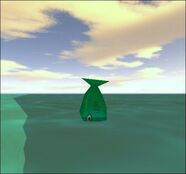 Fish
are fished from any water tile with a
Fishing Rod
.
The better your Fish Skill the better chance you have to catch one. When successfull you will see 'Found 1 Fish' on the left of your screen.
Fish can also be found as entities underwater and can be killed with only 1 hit.
They can take on up to 3 appearances.
Green fish (Easy to catch)
Orange fish (Hard to catch)
Purple fish (Somewhat Hard to catch)
Fish

Behaviour

Neutral

Height

Tiny

Moovement speed

Fast

Colour

Green/Orange/Purple

Tameable

(No)

Breedable

(No)


Yield Upon Death; 1x Small Meat